Fitzsimmons Foundation Funds New Wheeling PD K9
The Fitzsimmons Foundation, established in 2007, has grown to over $7 million and has contributed over $1 Million to numerous community and charitable organizations and events throughout the Ohio Valley. The attorneys and staff at Fitzsimmons Law Firm believe in giving back to their communityand improving the quality of life for its neighbors.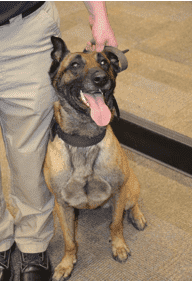 The Fitzsimmons Foundation recently donated $13,000 to fund the newest addition to the Wheeling Police Department, K9 "Zero." K9 "Zero" will be purchased and trained to replace retiring K9 "Bella", who has been part of the Wheeling PD since 2011.
"Our local law enforcement officials sacrifice so much and risk their lives every day to keep our communities safe. We cannot thank them enough for their service. As a small token of our appreciation, we are proud to make this donation to the Wheeling Police Department for the purchase of a new police dog. We are also hopeful that this donation will help combat the increasing drug and opioid problem affecting our communities," said Clayton Fitzsimmons.
K9 "Zero" is a Belgian Malinios breed and will be trained as a narcotics patrol dog. K9 "Zero" and his handler, Officer Jason Hupp, will train at the Merry K9 Services, LLC in Norwich, Ohio. Currently, the Wheeling PD has four narcotics trained dogs- "Ammo," "Bella," "Jericho" and "Keeni" and one K9, "Declan," trained to sniff explosives. K9 "Zero" will be the sixth K9 unit.
In addition to this donation, The Fitzsimmons Foundation also contributed to the funding of the Ohio County Sherriff's Department's K9 "Silver" last December.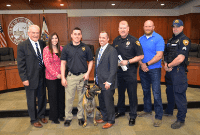 Fitzsimmons Law Firm PLLC is a plaintiff's litigation firm headquartered in Wheeling, West Virginia. With over $1 Billion in verdicts and settlements on behalf of its clients, and 183 verdicts and settlements in excess of $1 Million, the Fitzsimmons Firm has earned its reputation from its results. Fitzsimmons Law Firm regularly represents clients in West Virginia, Ohio, Pennsylvania, and across the country, in a wide variety of claims, including personal injury, wrongful death, truck accidents, medical malpractice, toxic torts, insurance disputes, and product liability.
Posted By
Fitzsimmons Law Firm PLLC
Categories: