Fitzsimmons Center for Litigation & Advocacy Established With $1.25 Million Donation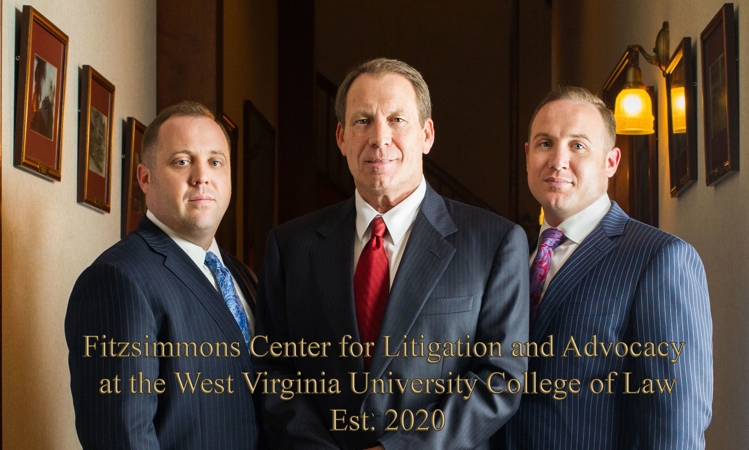 Fitzsimmons Law Firm PLLC is proud to announce that the Fitzsimmons Foundation has pledged a charitable gift of $1.25 million to the West Virginia University College of Law which will be used to establish the Fitzsimmons Center for Litigation and Advocacy.
The purpose of the Fitzsimmons Center will be to prepare law students to become highly effective legal advocates by enhancing and expanding the litigation and advocacy curriculums at the College of Law as well as to provide training opportunities for practitioners to continue to develop and enhance their litigation and advocacy skills. The director of the Center is also working to create a formal path of specialization in the areas of legal litigation and advocacy in the form of a concentration at the College of Law in Litigation and Advocacy Skills. As part of the gift, the event center at the College will also be named Fitzsimmons Hall.
"We hope this gift and the Center will provide many generations of future lawyers with the opportunity to develop and fine tune those skills which are necessary to be successful and effective litigators and trial lawyers," said Clayton Fitzsimmons, managing member of the firm. "West Virginia has a rich history of great lawyers and the Center will help continue that tradition." Rocky Fitzsimmons, co-managing member, added, "West Virginia University and the College of Law are very important to our great State and our Firm. We are so pleased to be able to give back the University and College of Law which have meant so much to many of our lawyers." The firm's founding member, Bob Fitzsimmons, was bestowed an honorary Doctor of Laws degree from the West Virginia University College of Law. Mark Colantonio ('86), Brent Wear ('04), and Christine Pill Fisher ('18) are also proud alumni of the College of Law.
The Center will be run by Jessica Haught, a professor and interim associate dean for Administration at the College of Law. In her role as Director, she will spearhead the curriculum development and course delivery efforts.
Fitzsimmons Law Firm is based in Wheeling, West Virginia and handles complex personal injury and plaintiff's litigation in West Virginia, Ohio, Pennsylvania and across the country. The Firm has achieved record results having won over $1 Billion in verdicts and settlements for its clients, including nearly 200 individual cases in excess of $1 Million. The Firm regularly handles cases across a wide variety of practice areas, including product liability, medical malpractice, toxic torts, workplace accidents, commercial and insurance disputes, and commercial vehicle accidents.
Posted By
Fitzsimmons Law Firm PLLC
Categories: