Bob Fitzsimmons Recognized Again As One of West Virginia's Top 10 Super Lawyers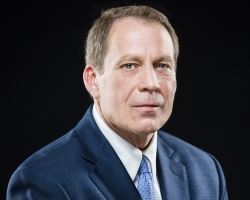 Fitzsimmons Law Firm is proud to announce that Bob Fitzsimmons was again named one of the Top 10 Super Lawyers in West Virginia, an honor he has received numerous times. In 2008, Bob was the leading vote getter for all of West Virginia's Super Lawyers. Bob was recognized in the field of Plaintiff's Personal Injury.
Bob is one of the most successful and experienced trial lawyers in the State having tried numerous cases to verdict and obtaining nearly $1 Billion on behalf of his clients. Bob has also obtained some of the largest verdicts in the history of West Virginia and certain counties in Ohio, including a $39 Million bad faith verdict. Bob also has handled numerous high-profile cases that garnered national and/or regional recognition, including his claim against the NFL on behalf of Mike Webster in the first case to establish the relationship between football and brain injuries; West Virginia's breach of contract lawsuit against its former head football coach, Rich Rodriguez; and representation of the victim & her family in the Steubenville Rape Case. He and his cases have been recognized in ESPN, HBO, Reader's Digest, GQ Magazine, The New York Times, and Men's Journal. Bob also maintains an active appellate practice, having been lead counsel in over 60 appellate opinions.
In recognition of his work, Bob was named one of the Top 75 plaintiff's lawyers in the entire country. He has also been repeatedly recognized and honored as one of the top lawyers in West Virginia by numerous associations and committees.
Bob is also a published author having co-authored 6 peer-reviewed medical articles and written book chapters. In addition to practicing law, Bob is currently co-director of the Brain Injury Research Institute (BIRI) which conducts research through brain autopsies to diagnose evidence of concussions and brain injury from trauma and contact sports.
Bob is a former member of the Lawyer's Disciplinary Board and presently a member of The Judicial Investigation Committee (JIC).
Posted By
Fitzsimmons Law Firm PLLC
Categories: