Fitzsimmons Foundation Donates $150,000 to the City of Wheeling for New Gateway Park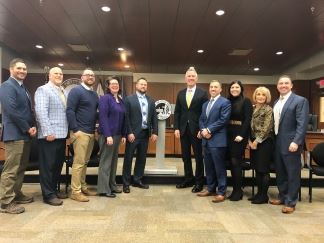 The Fitzsimmons Foundation has recently donated $150,000 to the City of Wheeling for the completion of the first two phases of the Wheeling Gateway Park. The park will be developed on approximately an acre of land on the riverfront south of the Wheeling Suspension Bridge. According to Mayor Glenn Elliott, "the park is named in recognition of the bridge's historically significant role in the nation's westward expansion."
The master plan for the Gateway Park project, organized by the City of Wheeling's Director of Parks & Recreation Jesse Mestrovic, consists of a total of six phases. The park will feature countless attractions for Wheeling residents and out of town visitors, among these are kayak launch and boat dock; improved streetscape and landscaping to Front and Ohio Street; a large plaza with swinging benches for community gathering; and a scenic overlook and history walk highlighting the key role of our beloved Suspension Bridge. Phase 1 of the project will be the construction of the bridge plaza, which will include an access point to the open green space. Phase 2 will consist of creating several parking spaces for visitors, as well as an improved streetscape and landscaping of South Front Street.
Rocky Fitzsimmons, a lawyer with the Fitzsimmons Law Firm in Wheeling and member of the Fitzsimmons Foundation, hopes this gift will continue the momentum of growth, expansion, and revitalization to our great city. "We are very excited to help make the Gateway Park a reality here in Wheeling. The park will add to our city's already beautiful existing landscape and will highlight the historic Suspension Bridge. We hope the Park will become a destination for local residents and visitors to make life long memories."
The Fitzsimmons Foundation was established in 2007 in order to improve the quality of life for our neighbors in the Ohio Valley and to help those that are less fortunate. The Fitzsimmons Foundation has contributed to numerous community and charitable organizations and events throughout the Ohio Valley.
Posted By
Fitzsimmons Law Firm PLLC
Categories: